Tiengemeten Archive | 2018
11 June 2018, cabinet D and three piles of 57 boxes in the living room
On 23 October, 2012, Cineco Film Lab went bankrupt. Cineco not only developed all the cinematographic material for the Tiengemeten project, their vaults also contained the entire collection of negative films made for the project. The finished documentaries of course feature only short fragments of what we filmed. The negative rolls contain everything we recorded over thirteen years of the changes taking place on the island.
On 27 September, 2013, I went to pick up the lot. It was a nice day in late summer. In the yard at the back of the Cineco premises a kind of spontaneous reunion took place of filmmakers dropping by. It was fun and really sad at the same time.
As the EYE Film Museum does not keep any raw footage, I had no option but to put the 57 boxes in my living room.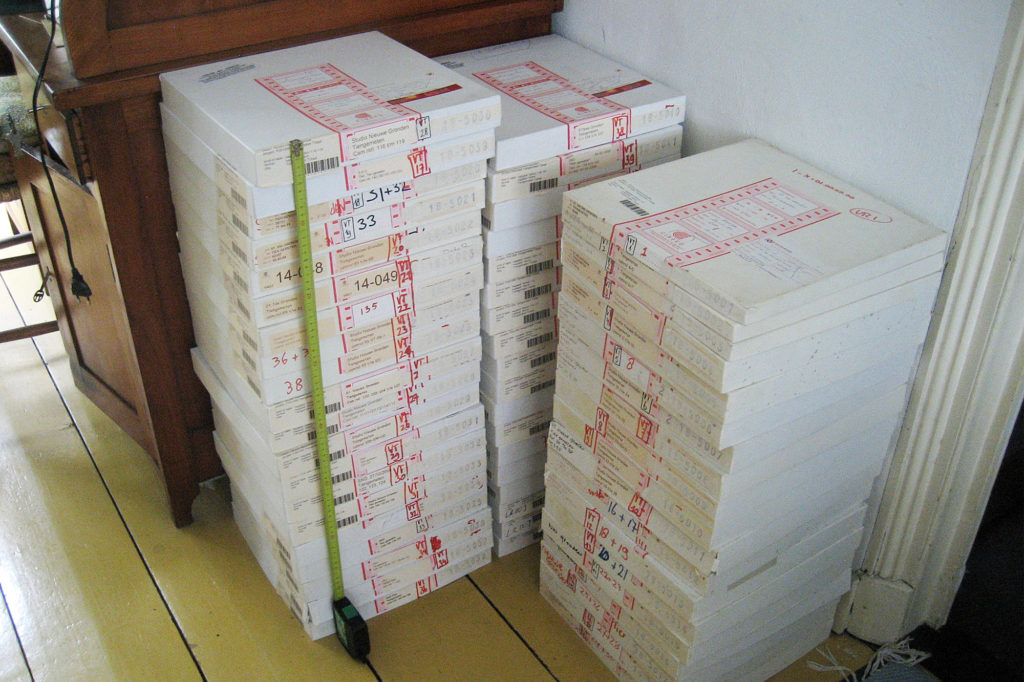 A number of times I went in search of a good home for the material. Unlike the other Dutch provinces, South Holland turned out not to have its own archives – instead it falls directly under the National Archives in The Hague. Apart from the boxes of negative films and accompanying DAT tapes, I had boxes full of newspaper cuttings, three ring binders full of policy documents, a box file full of plans, notes, memoranda, and so on. But the person in charge of services/collection management at the National Archives informed me that they do not keep audiovisual material. He did not even mention the paper documents.
So everything stayed where it was. When in 2016 the Agricultural Museum on Tiengemeten wanted to organize a day to look back at the whole process of change, it seemed like a wonderful idea to me. I held a few talks with the organizing committee and a date was set (June 4th). Having all the documents and photographs still available at home, I delved into them. I picked film fragments and prepared a PowerPoint presentation. A few weeks before the scheduled date I was told the whole thing had been cancelled: there appeared to be no interest in such an event. No interest whatsoever.
I was disappointed, even a little upset.
My film Keeping & Saving, or How to Live forced me to take another rigorous look at my own things. If I want to be able to find anything within five minutes, I have to be able to store things conveniently. And this was getting increasingly difficult.
So I had another crack by sending an email to the Sound and Vision Media Institute for Media Culture on 19 February, 2018. Following a reminder, I got a reply on 1 May, referring me to the South Holland Heritage House or Natuurmonumenten (Society for the Preservation of Natural Monuments in the Netherlands). The negative films were not part of their remit either.
The Heritage House replied at once to say that to their regret they were not a collection-managing institute, but they referred me to Teun de Bruijn, keeper of the municipal archives in the city of Dordrecht. Tiengemeten, it turned out, falls under the Dordrecht Regional Archives.
I sent Teun the shot list (197 pages) and he thought it looked interesting, as did all that paper. On Wednesday, 6 June, I went to deliver the lot. Teun de Bruijn and Rob de Bruijn accepted the material. It was laid out on two big white tables for closer inspection.
I gave them the DVD box too, as well as some sight copies of all the negative films on DVD. This will give them an idea of what is actually in all those boxes.
That's all I can do.