Tiengemeten revisited | 2010 & 2018
May 2010, revised 18 March 2018
Cabinets D and I
"When I was young everything seemed infinite and everlasting. Of course there would always be a birthday party for Henk in November in the Steenstraat next to the Schophuis pub. And if you couldn't make it one year, you could always go the next. And there would always be an opportunity to finish the hiking tour of the Pyrenees. You could always take those pictures of that beautiful old farm you used to go to with your grandfather to buy eggs. However, each moment lasts only one moment. Gone, gone, oh, and forever gone. If I could only hold on to it a little bit longer. Hope that I can enjoy this present moment. That I won't let it pass by unnoticed."
I wrote this in 2007, as a general introduction to my project on the island of Tiengemeten. Rereading it I am quite surprised to see that in the meantime I have used various elements from it in my voice-over on WISTFUL WILDERNESS, the final long version of my movie about Tiengemeten. It is strange to discover that a lot of ideas apparently float around in your head before they find their final destination.
My film project on Tiengemeten was always meant to be a long-term project. In late 1993 I read in the newspaper that there were plans to breach the dike and that the fertile farmland would become unspoilt nature again. I was to film the changes on that little island in the Haringvliet waterway until the first naturally grown tree would be as tall as I am.
Meanwhile this has resulted in nine folders chockfull of information on Tiengemeten in filing cabinet D. In filing cabinet C there are three more. And on top of cabinet VI there is a pile of newspaper articles, bills and newsletters two feet high. Then there are another ten ring binders with pictures. In addition, there are other files filled with tender specifications, and a file filled with notes on editing the film.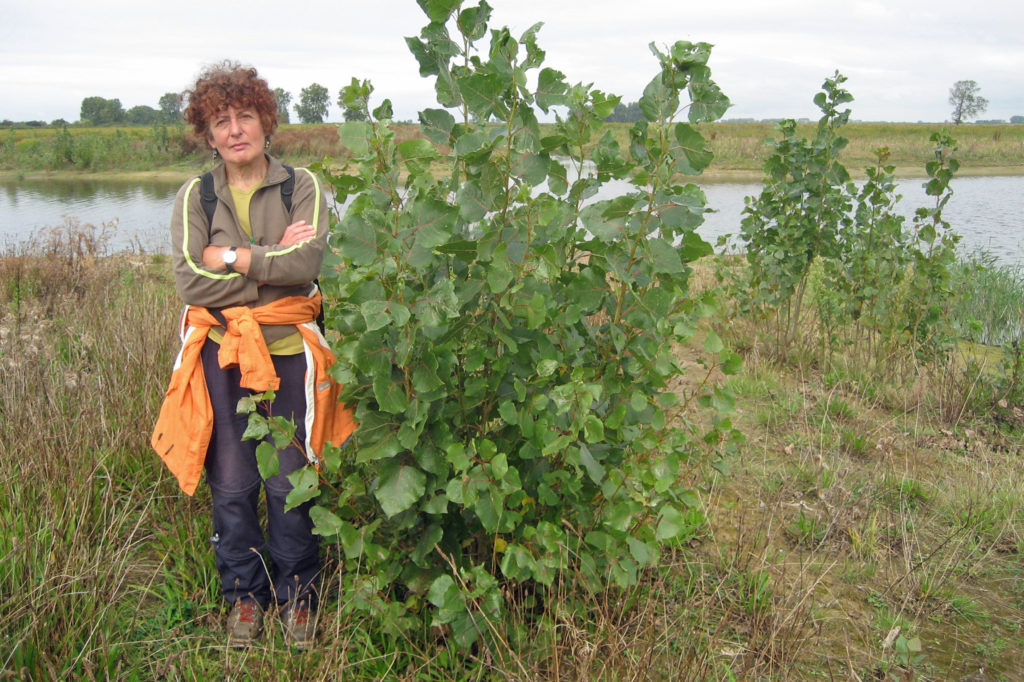 Here I am standing next to a young poplar, on 6 September, 2007. The question is, however, whether this is one of the trees that have grown here spontaneously. The answer is that it is not. It is a new shoot of one of the old poplars that stood along the road.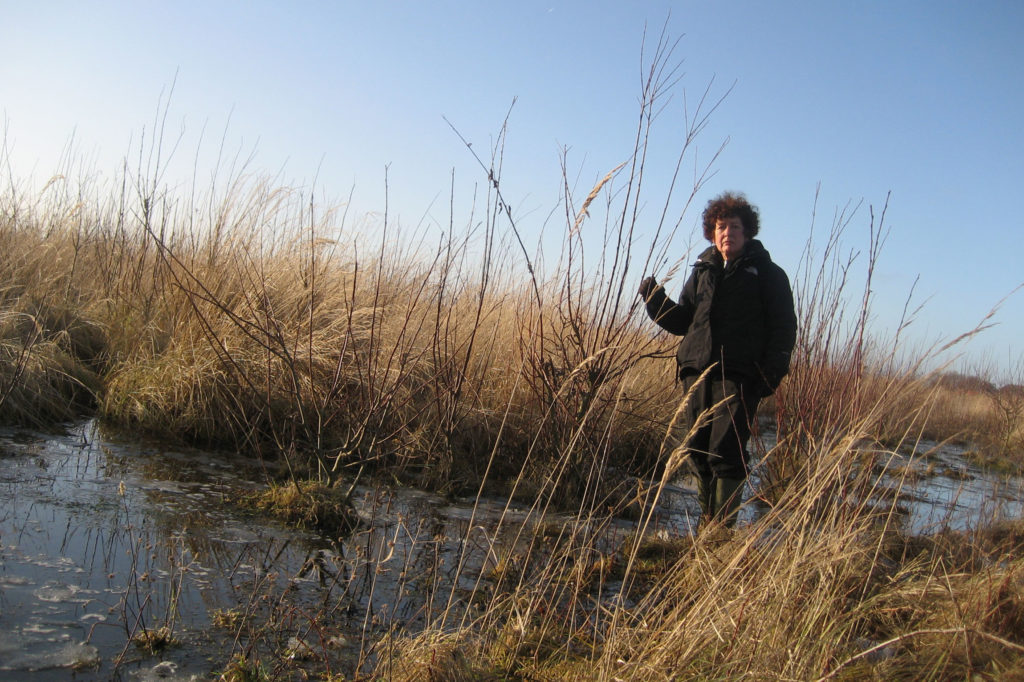 I took a picture of myself in January 2010. I am standing next to a young tree which really has come up spontaneously. I am standing on the ice, my little camera is sitting on a small post, therefore the horizon in the picture isn't quite straight.
"Actually Tiengemeten is of course a project about time and transitoriness."
I also wrote this in 2007. And it is completely true. Even more than I realized at the time. I spent the Christmas holidays of 2008 reviewing all the material I had filmed. In the shot list (196 pages) I marked all the shots I thought were good enough with a pink marker, without concerning myself with dramaturgical principles, structure or logic. I thought: I will make a movie of landscapes only. No voice-over, no talking people. But with music, a little. And next I will make another movie for myself, with exactly the same shots, but with text. My own text. About what it is like to work for so long on a particular project and to realize that time just slips by. However, Albert (who would edit the film) said he found the latter version more interesting. I should start working on that text. We could always throw it out if it didn't work.
And so we started on what would be called WISTFUL WILDERNESS. In between we also edited another film on Tiengemeten: part three of the NEW TIENGEMETEN series, to be made for NPS (a Dutch public broadcaster). This third and final part would only cover the period 2006–2009. When we both had time – which wasn't very often – we would edit either film for a few days. Sometimes we got confused, but not very often. Neither film had an ending yet. We still had to figure those out and shoot them. Finally, our very last shooting day was 31 July, 2009. It was a strange and memorable day. It marked the end of a period of filming that lasted 13 years.