Veerdiek / Ferry Dike: lay-out | 18 June 2018
The Veerdiek garden is about 500 m2 (10 x 50) and has a natural slope. The soil is a light, sandy clay. Ideal for a vegetable garden. Don't ask me where this soil comes from: the dike has been there a fair while. I once found a 17th century coin there. But the dike may be much older, even dating back to around 1300 when the first salt marshes were diked.
The slope of the garden is something to take into account. Heavy downpours tend to wash away the bare soil. The people who worked the garden before me did not always realize this and put in vertical rows of potatoes, for instance. I sow all rows horizontally, to retain the water. And low lavender hedges halfway up the garden also help.
The earliest photos I have of the garden were taken when I shot my short film "Greetings From Zonnemaire" (1972).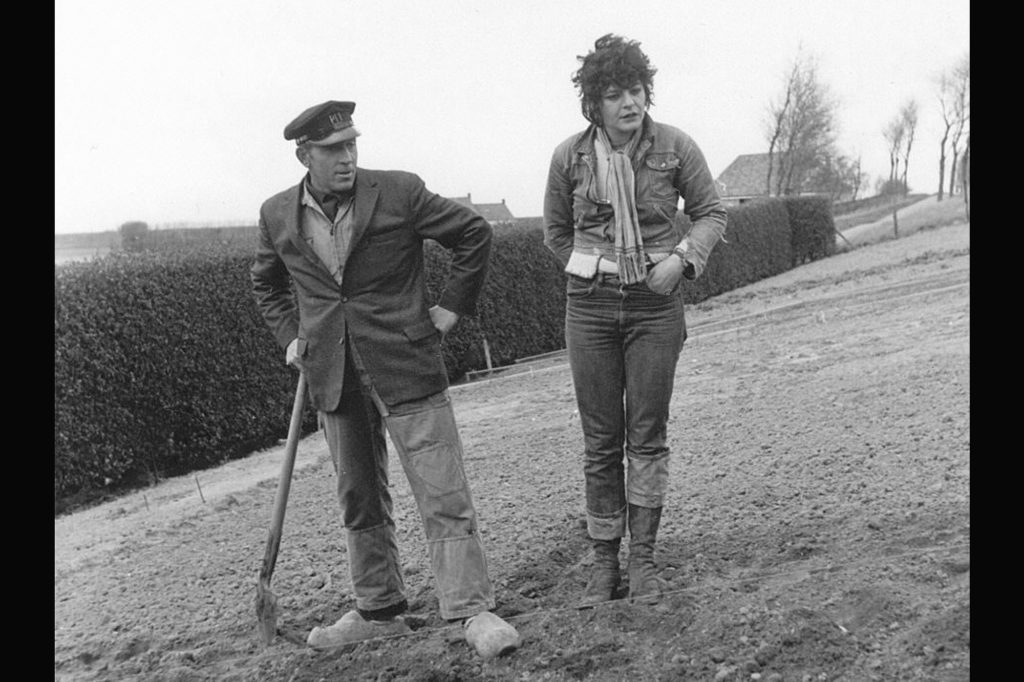 Gerard van Splunter and Heleen van der Wusten in "Greetings From Zonnemaire" (1972)
In those days the whole garden was still turned over each year. Paths and seedbeds were laid out anew each time. Today the garden no longer gets as bare as it was then.
My mother and her brother inherited my grandmother's garden. The garden was divided in half, but that did not work out. My parents took over my uncle's half. The oldest sowing scheme we have is from 1979. I can't detect much structure in it. A couple of years later we divided the garden into six parts, and since 1989 it has been split into four equal parts, for potatoes, green vegetables, pulses and root crops. And we shift them every year. Crop rotation, in other words.
There are also some perennials across the four quarters: strawberries, grape hyacinths, Michaelmas daisies and carnations. (Yes, there are flowers among the vegetables.) The strawberries take up the most space, so I make sure they stay out of the potato patch, as we need a whole quarter if we want to eat potatoes from our own garden all year round.
On the short side to the north is a small strip of wilderness, with a large robinia pseudoacacia. On the opposite short side, in the shadow of the neighbours' cottage, is the fruit cage, with blackcurrants and raspberries.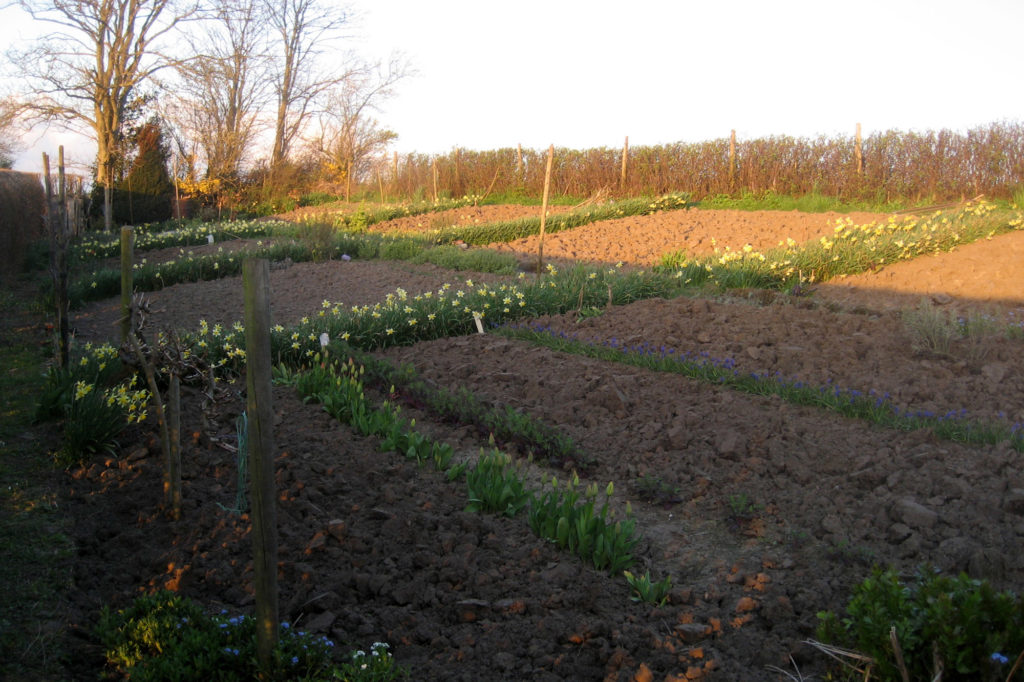 This photograph clearly shows the lay-out. The paths are also permanent, flanked on both sides by daffodils. This was 31 March, 2012. Forty years after the first picture. The hedge's shadow tells me the sun must be pretty low.